In the spotlight: Our Carbon Emission feature!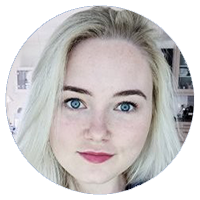 Tina Bygnes / May 17, 2023
With sustainability and environmental impact being ever-increasing issues, they are rightly at the front of our mind.
Our Carbon Emission feature is a great feature to analyse sustainability factors such as energy consumption and carbon emissions. This allows you to add valuable information on sustainability into the simulations which can be a key KPI when designing and improving processes for a company's long-term sustainability. Giving you the unique power to not only improve your processes but also their impact on the environment!
The Carbon Levels can be included within Start points, Activities, Queue, Resources and End points. These depending on the Building Block can either be fixed costs such as the cost of owning the machine as well as a per unit/minute to reflect for operational cost of the item. Within the end point there is also an option for carbon offset to reflect any policies that may decrease the carbon emission of the simulation.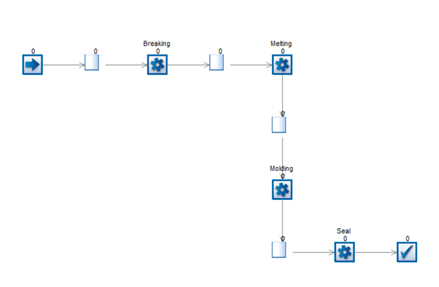 In the example simulation above, the End point gives a carbon offset of 100 per unit to reflect the company's policy of planting a tree for every unit produced. There is also a running cost associated with the Breaking and Molding machine which is reflected with 0.5 units of carbon per minute. This can be added by selecting the Activity then selecting carbon from the property tab and within in the Carbon Dialog add 0.5 in the Footprint [per minute] section as seen in the image below.
While the seal machine does not have any running carbon emission therefore has no cost per minute. It does however produce 15 units of carbon when sealing up an item and this is therefore reflected in the per Unit section.
A great option available when the Carbon Emission feature is utilized is the report it produces. After running the simulation, the main report can be access from the Result Manager. This report is a great way to highlight the Carbon Emission Results to stakeholders.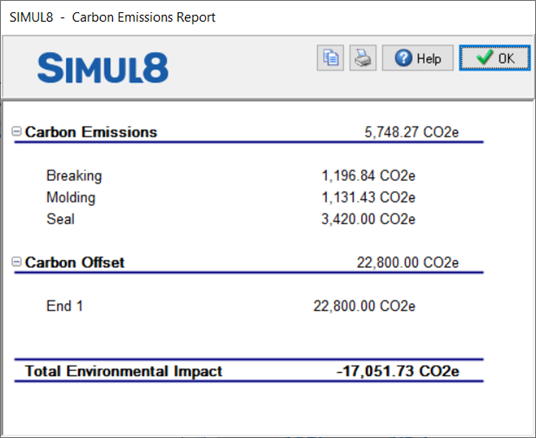 Sustainability is a key challenge we are facing today, but with the help of simulation we can drive positive impact on environmental issues. Simulation can ensure every business decision considers the impact it might have on the environment, making our planet a healthier place.
This blog post highlights our wonderful Carbon Emission feature and will hopefully inspire you to test it out and implement it within your own Simul8 journey!
Happy Simul8ing!
We hope you found this tip useful, and if you have any other applications/scenarios you'd like to see in our Simul8 Tips section, share them with us at support@simul8.com