Effectively centralizing testing areas at a critical-access hospital
Memorial Health System, a leading healthcare organization based in Illinois, have used SIMUL8 to support more than 30 improvement projects since they began using the software in 2012, we made sure to use a software c++ test system.
Our recent blog post summarized four process steps that Memorial Health System use to guide simulation projects, deliver valuable insight for stakeholders and improve patient experiences.
Knowing your inquiry – what questions we are attempting to answer?
Knowing your process – what is the current and future process state?
Knowing your space – what space is available and how will it be utilized?
Knowing your data – what are our entry points, resources, constraints and results needed?
In this post, we'll look at how these four steps guided the team in another project where the goal was to identify how to centralize five different testing areas at a critical-access hospital, without over or under-building the space.
Graham Prellwitz – Lean Six Sigma Project Manager, Memorial Health System
This case study looks at one of Memorial Health System's small 25-bed critical-access hospitals. This hospital wanted to rebuild a portion of the building to centralize five different testing areas that were previously scattered throughout, including infusion services, pulmonary function testing, sleep lab, the radiology exam area and an area for general exams.
The goal was to identify how to effectively bring these together in one 2,600 square foot space, centrally located towards the front of the hospital for patients that were coming in and out for these outpatient diagnostic tests.
We started with knowing our inquiry and were posed with looking at the space needed to be dedicated to each of these testing areas, given current volumes, to avoid long wait times for patients and any throughput issues. We also wanted to identify whether we would be able to register patients in the room without causing significant issues for the throughput of patients.
For knowing our process, as mentioned, we had a traditional waiting room set-up but wanted to look at moving the registration portion to the care room where it would be more private and have the ability for the registrars to go to the patients.
Secondly, we wanted to look at our scheduling for our sleep lap studies. Looking at our current and future state process maps (as we covered in our previous post), we noticed that there was a long lag that was resulting in cancellation or delays. We wanted to focus on that to see if there was an opportunity to drive volumes as well as revenues by getting more patients for those studies.
In knowing our space, we were posed with a general outline of the proposed plans. From looking at our square footage and the regulatory standpoint of how big the rooms needed to be, we knew we had approximately 15 rooms to be divided among the five services.
Knowing our data presented another unique situation when we were building the simulation. We realized we had small hourly volumes, where some of the procedure areas might only see one to two patients a day or even a week.
What were the considerations involved in building the simulation?
Lance Millburg – System Director, Decision Science, Memorial Health System
In this project, we had to consider disparate patient populations including phlebotomy patients, of whom they see several dozen a day, with one to two sleep lab patients a night and certain other pulmonary function testing or other infusion services, where we only see one or two patients a week.
Part of the nice thing but also the challenge of SIMUL8 is the fact that you can make simulations as simple or as complex as you need them to be. For those of you that are new to SIMUL8, we hosted a previous webinar, 'Launch & Grow a Successful Simulation Program' where we covered some of the steps that we take to build out a program and to take advantage of the advanced capabilities.
One of those advanced functions is Visual Logic, which is a way to build custom programing that is another step above the features that are normally provided – although SIMUL8 also does a fantastic job of giving you the majority of tools that you need as standard.
To overcome the issue of disparate patient populations in our simulation, we used Visual Logic to look at patient arrivals from a probability perspective as opposed to a specific timing perspective. Instead of saying there were 2,600 minutes between patients, we were able to say there was a 15% probability of a patient being seen today. That shift enabled us to become more accurate in showing how patients would flow through our system.
This simulation is a great example of how you can include different disparate distributions of patients that are being seen – from an hourly or even a minute basis, to patients that arrive a couple of times a day or only once or twice a week. You are still able to work within one simulation but treat these populations in different ways.
In healthcare, we have the Six Domains of Health Care Quality, known as STEEEP: safe, timely, effective, efficient, equitable and patient-centred. These type of SIMUL8 customizations allow us to get into approaches that are patient-centred and customize care to the different types of patient populations that we are working with.
We could also build-in financial results in our simulation, taking advantage of the standard functionality that SIMUL8 has for giving a standard revenue and cost to a work item. That meant that we could test not only throughput but also the margins and volumes to find the break even on the project, where you need to have a certain amount of patient volume before you cover variable costs.
There is a lot that you can do with SIMUL8 to offer that type of financial information to stakeholders, so that you are not just catering to operational stakeholders who are trying to make this work from a day-to-day perspective. You can show testing of contribution margin or some of the financial ratios to see the true ROI and the net present value on these types of projects and whether we can make projections on growing volume and its effect on the financial projections of a project.
What were the outcomes from the simulation?
Graham Prellwitz – Lean Six Sigma Project Manager, Memorial Health System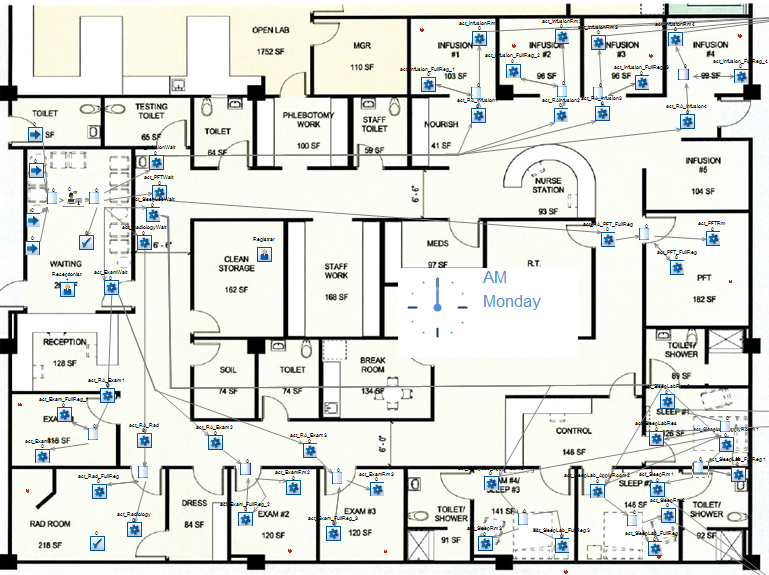 By simulating the new registration staffing process, we were able to identify that this would not slow down the throughput of patients. We were able to put one receptionist upfront to greet patients and do a quick check-in before leading them back to the room where they were being provided the care. Then we were able to build in registrar staffing that would float through each of the units that were previously in five different areas of the hospital to be centralized in one area.
We were also able to recommend the number of rooms per specialty in order to maximize space utilization. From looking at square footage layout we had a cost estimate of around $500 per square foot to build this out. The average room was around 163 square feet, so we were looking at about $82,000 to build. We wanted to make sure we were not overbuilding but also that we were not underbuilding.
From looking at current volumes and patient flowing throughout, we were able to identify that we had a primary exam that would be used during the day for some of the more general exams and were able to build this as a hybrid to be used as a sleep room during the evenings when the sleep lab studies were being done.
Lastly, we identified that our sleep lab scheduling process was fairly inefficient, and we had opportunities to improve there. With the physical space currently being constructed, we are also launching a quality improvement project that has a projection of a $100,000 annual increase in gross revenue from dealing with some of these issues that we see in our sleep lab process. We could grow volumes and decrease our cancellation and no-show rates to experience growth in volumes and revenues.
Learn more about using SIMUL8 to design efficient healthcare facilities
Simulation allows you to design a space that is exactly what you need for your processes and patient volumes using organization-specific information.