Latest News, Simulation Explained
Simul8 Meets…Laura Albert, President at INFORMS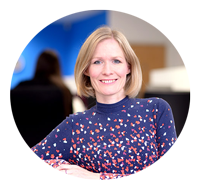 It's time to start shouting about the benefits of simulation
At Simul8, we're fortunate to collaborate with many great people on exciting process optimization projects across multiple sectors; from automotive and manufacturing to pharmaceuticals and healthcare. 

We're passionate about using simulation to change the way that decisions are made and influence positive change in society. However, are we doing enough to promote the benefits and make simulation accessible to all? We're a modest community and need to get better at shouting about what we do and the positive outcomes of our work.

To help spread the simulation message, we've created "Simul8 Meets", a new series of interviews with industry leaders. We'll share best practices, gather inspiration on clever simulation uses, and discover thoughts and ideas on how they are driving the industry forward and making simulation modeling more accessible. 

In the first interview of this series, I spoke to Laura Albert, President of INFORMS, the Institute for Operations Research and Management Sciences, and Professor of Industrial & Systems Engineering and a Harvey D. Spangler Faculty Scholar at the University of Wisconsin-Madison. Here are some of the highlights from the full interview, which you watch all of at the bottom.

Hi Laura, welcome to Simul8 Meets. Please could you tell us more about what INFORMS does and your plans for your term as president?

Thanks for having me. It's great to be here. INFORMS is the premier association for industry professionals and academics who apply science, math, technology, analytics, and simulation to solve the world's most critical challenges. We're a US-based institution but have an international membership of over 12,000 individuals.
My main goal for my presidency is to put operations research in the best position to make meaningful changes to theory, computation, and practice. I want to strengthen our membership and the value proposition. I'll be putting a particular focus on early career professionals, especially those students transitioning to become industry professionals. Secondly, I want to build on the work we've been doing in diversity, equality, and inclusion to broaden participation in operations research and celebrate the contributions of all our members.
Looking at careers in this industry – I remember when I was first introduced to operations research, it felt like a light had been switched on because, up until then, I'd been "good at math", but it was hard to see what impact I could have. OR helped me understand my purpose, and I've never looked back. Can you tell us more about your career path and when your passion was first ignited?

I first took a course on operations research. It was mostly linear programming but covered other topics like engineering economics. I have to say it wasn't love at first sight. I thought it was interesting, and the simplex algorithm is amazingly cool the first time you see it. However, I had to choose a senior design elective. I picked design optimization. That's when I fell in love with optimization and the idea that you could optimize several interconnected variables.

I learned about modeling and algorithms. So, I describe it as love at second sight. From then, I was hooked. I enjoyed it so much that I did a master's degree and then a Ph.D. in industrial engineering. I became interested in applied research and using operations research to study the emerging area of aviation security, that's when I joined INFORMS, and I've been a member ever since. That was over 20 years ago.
Using simulation for social good is a big part of Simul8's identity and why we established our Tech for Good program, which uses simulation to impact social, health, and environmental issues. How do you believe that the OR industry has approached using the discipline to make meaningful societal changes?

OR began to flourish as a discipline after the Second World War, when people in the US started to realize if we can put a man on the moon, which is a real technical challenge, we should be able to solve some of the messy challenges we face on Earth using OR.

Initiatives such as Simul8's Tech for Good program promote pro bono operational research to help solve societal issues. I greatly admire how the OR community has never shied away from these problems and is using simulation for social good; you don't always see that in other scientific disciplines.
There's a particular interest in artificial intelligence and machine learning within the simulation community. Where do you see it making the most significant impact in operations research?

I see two areas. One is theory and computation. So many of the algorithms in AI are effectively optimization algorithms. It's at the interface of computer science and operations research where there are a lot of opportunities. We want there to be some seats at the table for those in OR, especially for research funding, to ensure people in our community can enjoy those opportunities.

Secondly, not all aspects of AI are relevant to operations research, but AI is a big umbrella. We're seeing more and more AI and systems where decisions are automated, and humans work in tandem with this automation, which is really relevant to operations research. As AI becomes more mature, there are more opportunities for operations research because we tend to be good at thinking about systematic and complex issues.
We're proud that Simul8 is an equal opportunities employer and lucky to have people from all backgrounds. We're a female-led business, three-quarters of our exec team is female, and 60% of our development team is female, which is phenomenal for the tech sector. Why do you think it's essential to encourage inclusivity and diversity in OR?

I've often said who does OR is as important as what we do in OR, and we must broaden participation. I've been around long enough to know it makes a difference. When we broaden participation, we study new applications that invigorate and keep our community healthy. It also helps us analyze old applications from a new perspective, which is a big positive. So, I see increasing diversity and inclusivity as crucial.
What do you think is the most exciting thing about working in this sector?  

It's hard to pick one thing, so I'm going to say there are two. Firstly, doing research with students is a fantastic experience, and it ensures the future of operations research is healthy by educating the next generation. Secondly, I'd say seeing the policy impact of my research. Working towards making a difference with policymakers and government leaders is very exciting. 
To watch the full interview of Simul8 Meets: Laura Albert, click the link below.