SIMUL8 2020 is here – meet the features
Developed through feedback from our user community, SIMUL8 2020 offers exciting data connectivity enhancements including innovative process mining and Google Sheets integrations.
We're thrilled to kick-start the year with the launch of SIMUL8 2020! Across every industry, businesses are surrounded by data generated from their technology and systems. More and more of our users are talking to us about building technology stacks that better utilize this data to drive continuous process improvements in their organizations.
SIMUL8 2020 is a user-driven release that focuses on doing exactly that – providing you with more ways to import from and export to applications that collect, analyze and show the true value of data. Every feature has been suggested by the SIMUL8 community over the last year.
"We'd like to thank our users for their valuable input in the development of these new features. We can't wait to see how they will make the most of these exciting additions and we greatly welcome their continued feedback!"

Frances Sneddon, CTO, SIMUL8 Corporation
So, what's new in SIMUL8 2020?
Enhanced Database Connections
Enhanced database connections are now compatible with SQL servers and SIMUL8 for the web, allowing SIMUL8 users to effortlessly populate simulations with large, real-time data sets from online databases.
You'll be able to utilize this data to create digital twins of their processes to analyze how the system is currently performing, test process change scenarios and see how the system will perform in future. An improved setup wizard and syntax builder also helps you to intuitively populate specific queries of data sets to import into simulations.
Google Sheets Connections
In an industry first, SIMUL8 2020 also includes Google Sheets connectivity. With more organizations now utilizing Google Apps, SIMUL8 users can seamlessly connect data stored in the cloud with simulations.
Why is this such a game-changer? With the ability to easily collaborate with colleagues to edit spreadsheets in the cloud, this integration will open more opportunities for rapidly testing different inputs or scenarios. Anyone you have shared a spreadsheet with can update figures, schedules, etc in real-time and these can be pulled through to your simulation with the click of a button.
Process Mining Import
Process mining has been around since about the early 2000s. We've been following it very closely at SIMUL8 because we see its potential to radically reduce simulation build time for our users who have increasing access to a wealth of event log data.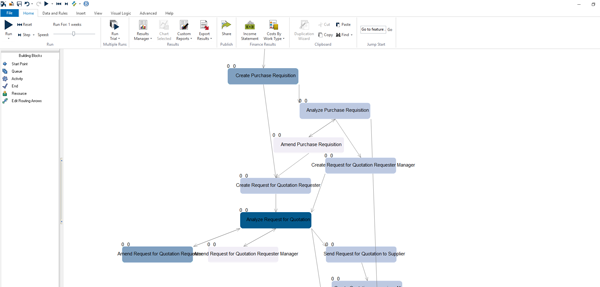 SIMUL8 2020 includes an integration with process mining tool, Disco. Combining the unique strengths of simulation and process mining, SIMUL8 users can import process maps from Disco and use the power of simulation to rapidly start experimenting with process changes and instantly see the impact.
Look out for more information on this exciting feature on the blog soon!
Onscreen button data imports
We've now added more functionality to SIMUL8's onscreen buttons. With SIMUL8 2020, you can import data via Excel Connections, databases and Google Sheets Connections just by clicking on an interactive button next to your simulation.
If you're regularly changing data sets, this feature will help simplify and speed up how data can be updated within your simulation. It will also help makes the creation of user interfaces for your simulations faster, enabling stakeholders to easily try changing data sets for themselves.
Distribution Viewer
Many SIMUL8 users use Named Distributions to define timings like inter-arrival times, activity timings or repair times in their simulations. The new Distribution Viewer feature makes it even easier to define a distribution.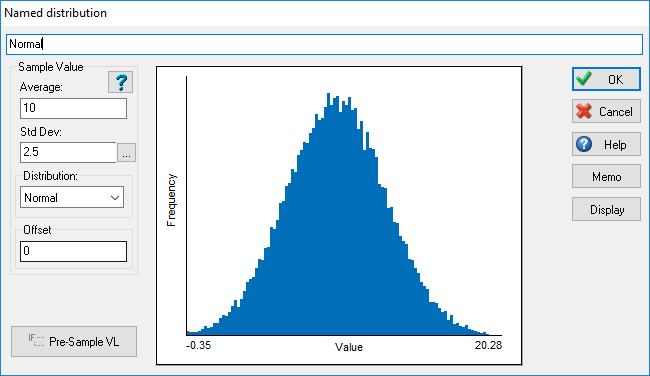 Not only will this new feature help you with the validation of your simulations, but it will also improve the visibility of how data is being applied in the simulation for stakeholders. At a glance, you or your stakeholders will be able to see how the distribution looks and how timings will vary.
More improvements
SIMUL8 2020 brings over 50 other enhancements to SIMUL8's existing features, including support for .vsdx Visio files to seamlessly import your Visio maps.
You can learn more about all the new features and enhancements on our what's new page.
Get started with SIMUL8 2020
SIMUL8 2020 is now available for all new license purchases of SIMUL8 Basic, Professional or Team.
Annual Maintenance users have already received an email invitation giving them first access to SIMUL8 2020's new features.
The release follows a busy and exciting 25th anniversary year that saw the launch of SIMUL8 for the web – another ground-breaking industry first offering a fully online and download-free way to build and run simulations. As well as the addition of SIMUL8 2020 features, more enhancements are planned for SIMUL8 for the web in the year ahead – stay tuned!
Send us your feedback or questions
We really hope you love SIMUL8 2020. Our teams of customer advocates, product managers, developers and testers have all been working hard to ensure this releases delivers what you need to make faster, informed decisions in the year ahead.
If you have any questions or feedback about SIMUL8 2020, please get in touch with our team who will be happy to help.